Department of Surgical Oncology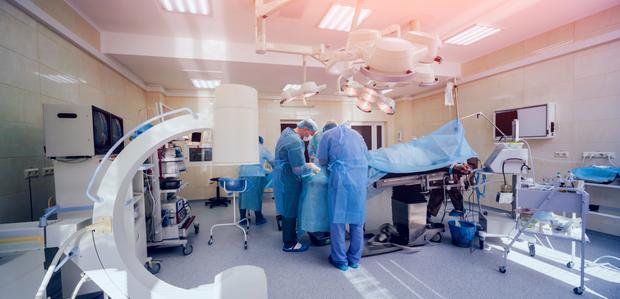 Cancer care centres in India often take a vertical approach to the treatment of Cancer. At Gleneagles Hospitals, however, the treatment design follows an integrated approach that involves super specialists from various other medical specialities to form the "Multi Super Specialty Organ-Specific Cancer Care". The Department of Surgical Oncology under the Gleneagles Cancer Institute (GCI) at Gleneagles Hospitals, India is one of the six approaches to provide end-to-end Cancer Care services starting from treatment, and disease management to Rehabilitation.
Our Surgical Oncologists team provide inpatient and outpatient treatment for a number of illnesses like Anal Cancer, Breast Cancer, Liver Tumour, Gastric Cancer, Colon Cancer, Rectal Cancer, Pancreatic Cancer etc. As a comprehensive Cancer Care centre, at Gleneagles Hospitals patients have access to state-of-the-art diagnostic modalities and the advanced instruments most effective during the surgeries and treatments.
The aim is to remove the diseased tissue, leaving the healthy ones, and ensure that the disease does not come back. The list of effective surgical treatments and surgical procedures for Cancer are:
Organ preserving surgeries
Partial and complete resection of afflicted tissue
Ablation of Liver Tumours
Oncoplastic Breast-conserving surgery
Liver and Pancreas Cancer treatment
HIGHLIGHTS OF ADVANCED CLINICAL SERVICES FOR ALL TYPES OF CANCER
Head & Neck Oncology
Complex Head & Neck Cancer surgeries | Micro Vascular Reconstructions with near 100% success rate | Best cosmetic & functional results | Skull base surgeries | Organ preservation surgeries | Multi-disciplinary team discussion & treatment
Gastro-Intestinal Oncology
Thoracic Laparoscopic Esophagectomy | Laparoscopic APR | Laparoscopic Ultra-low Anterior Resection | Laparoscopic Colectomy | Major Multi Organ Resection | Exenterations
Gynae-Oncology Surgeries
Laparoscopic Radical Hysterectomy | Laparoscopic Staging-carcinoma Ovary, Endometrium | Laparoscopic Pelvic Nodal Dissection | Laparoscopic Pelvic Exenteration | 3D Laparoscopic Surgeries
CRS+ Hipec For Peritoneal Surface Malignancies
Hyperthermic Intraperitoneal Chemotherapy (HIPEC) is a highly concentrated, heated Chemotherapy treatment | It is delivered directly to the abdomen during surgery | Allows for high doses of Chemotherapy | Enhances and concentrates Chemotherapy within the abdomen | Minimizes the rest of the body's exposure to the Chemotherapy | Improves Chemotherapy absorption and success | Complete Cyto Resection of all Cancer affected regions (Cc0) | Best results & 100% success rate till date
Musculoskeletal Oncology
Expert treatment for soft tissue and bone Tumours | Adult and Paediatric soft tissue Tumours treatment | Limb conservative surgeries
Blood & Marrow Transplantation (BMT)
One of the very few centres in the country to offer BMT for life-threatening benign & malignant disorders | BMT for haemoglobin disorders like Thalassemia, Sickle Cell Disease, childhood Cancers like Leukaemia, Lymphoma, Immune deficiencies like SCID, and CGD | Aplastic Anaemia like Fanconi Anaemia and acquired Aplastic Anaemias Inherited Metabolic Disorders | Dedicated team of Paediatric & Adult BMT physicians, intensivists, Infectious Disease Specialist, Pathologists, 24x7 Blood bank facility, expert staff | Experts perform all types of Stem Cell Transplantations | Allogeneic Stem Cell Transplantation using matched related or matched unrelated donors | Allogeneic Stem Cell Transplantation using a Haploidentical (Half Matched) Donors | Allogeneic Unrelated Cord Blood Transplantation | Autologous Stem Cell Transplantation |
Paediatric Haemato Oncology
Comprehensive treatment facilities | To all types of childhood Cancers | Acute Lymphoblastic Leukaemia | Acute Myeloid Leukaemia | Chronic Myelogenous Leukaemia | Juvenile Myelomonocytic Leukaemia | Hodgkin's Lymphoma/Non-Hodgkin's Lymphoma | Bone Tumours | Nephroblastoma | Neuroblastoma | Rhabdomyosarcoma/Soft Tissue Sarcoma | Germ Cell Tumours | Brain Tumours | Advanced Paediatric Intensive Care Unit.
PROCEDURES
LAPAROSCOPIC RADICAL NEPHRECTOMY
Laparoscopic Radical Nephrectomy is a minimally invasive technique for patients who are diagnosed with a large Kidney Tumour. The entire Kidney and the surrounding fat are removed by the Radical Nephrectomy. The doctor may recommend a Laparoscopic technique for patients with Metastatic Disease, Renal Masses or any evidence of disease in the regional lymph nodes.
The Laparoscopic Radical Nephrectomy procedure is performed under general anaesthesia. This surgery is done by making 3-4 incisions and it takes 2-4 hours for the surgery to complete. Most people need to stay in the hospital for around two weeks after the procedure.
Tumour Ablation is a treatment involving the use of heating, freezing, or substances such as acetic acid or ethanol which are directed into the Tumours to kill the Cancer cells. It is relatively a new technique used for the treatment of Cancer. A special probe called a radiofrequency electrode is inserted into the Tumour with the help of a CT Scanner. This is to position the probe in the centre of the Tumour. This probe destroys the Tumour with heat.
During the procedure, using a CT Scanner, a small needle-like device is inserted into the Tumour through the skin. When the probe is inserted into the Cancer, it is attached to a generator which burns or freezes the Cancer. This procedure does not damage or destroy the normal healthy cells.
Pneumonectomy is a surgery performed to remove the entire Lung. Our Surgical Oncology team performs the procedure to treat Non-small Cell Lung Cancer. It may also be performed to treat conditions such as Chronic Obstructive Pulmonary Disease (COPD) and Tuberculosis. The types of Pneumonectomy procedures include standard Pneumonectomy and Extrapleural Pneumonectomy.
To perform a Pneumonectomy the surgeon makes a long incision on the skin. The incision follows the curve of the ribs, from below the shoulder blade to the front of the chest. The Lung is collapsed and the major blood vessels that lead to the Lung are tied off. The Lung is then removed. A temporary drainage tube is inserted to draw blood fluid and air out of the surgical cavity. The surgeon checks for any leakage in the blood before closing the incision.
Bowel Resection is a surgical procedure used for the treatment and prevention of diseases of the Colon and is also used to treat Colon Cancer. Surgery is a common treatment for Colorectal Cancer. Bowel Resection is a procedure to remove the entire or a part of the infected Colon along with the surrounding tissues and lymph nodes. Removal of the entire Colon is called a Total Colectomy.
This procedure is performed under general anaesthesia. During a Laparoscopic Bowel Resection, a camera is present to guide the surgeons to the targeted site. It is a minimally invasive procedure as only small incisions are made on the skin.
TYPES OF CANCER
LUNG & BRONCHIAL CANCER: Smoking and the use of tobacco is the major cause of Lung and bronchial Cancer. it is the top killer of Cancer in the world.
BREAST CANCER: Breast Cancer is the second most common Cancer in women, after Skin Cancer. This Cancer usually forms in the glands that produce milk in women.
PANCREATIC CANCER: Pancreatic Cancer begins in the tissues of the Pancreas and it aids in the process of digestion and metabolism regulation.
COLON & RECTAL CANCER: Colon Cancer grows in the tissues of the Colon and Rectal Cancer develops towards the end of the large intestine near the anus.
OVARIAN CANCER: This Cancer is easy to treat but hard to detect in the early stages. According to recent research, a few signs that may aid in diagnosis are abdominal discomfort, urgency to urinate and pelvic pain.
CERVICAL CANCER: Cervical Cancer is a Cancer that starts in the cells present on the surface of the Cervix. They are caused by HPV (Human Papillomavirus), a common virus that is spread through sexual intercourse.
Why Choose Us?
PATIENT EXPERIENCE

Your care and comfort are our top priorities. We ensure that the patients are well informed prior to every step we take for their benefit and that their queries are effectively answered.

LATEST TECHNOLOGIES

Your care and comfort are our top priorities. We ensure that the patients are well informed prior to every step we take for their benefit and that their queries are effectively answered.

PROVIDING QUALITY CARE

Your care and comfort are our top priorities. We ensure that the patients are well informed prior to every step we take for their benefit and that their queries are effectively answered.